Health & Safety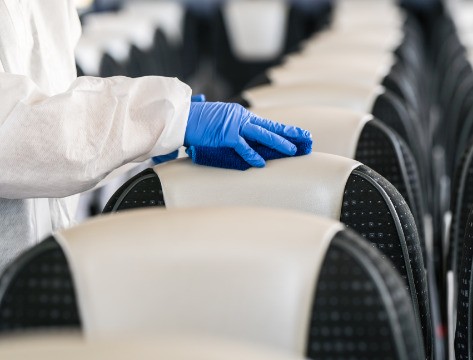 The importance of hygiene
High hygiene standards ensure the safety of all our passengers and employees. Compliance with hygiene rules is a high priority for us and is regularly checked - because health is the most valuable good.
General health and safety measures
Wash and disinfect your hands frequently.
All our buses are equipped with hand sanitizer that you can use when you enter.
Observe coughing and sneezing etiquette.
Luggage is loaded and unloaded in the baggage area by the driver only.
Drinks are served only by the driver/guide with mouth and nose protection.
Wear the seat belts provided in each seat throughout your journey and avoid unnecessary movements or changing seats.
Inside the bus, food and drink consumption is limited in kind.
Do not put rubbish in the seat pockets. Use the bags provided on your individual seat before throwing it in the trash cans.
For hygiene reasons, the bus's built-in toilet is an "emergency toilet". This is another reason why more breaks are being taken.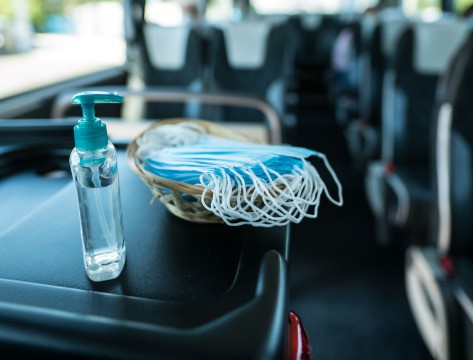 Refreshing and cleaning of the passenger cabin
The air conditioning technology in our buses is based on the combination of Aquasphere air conditioning systems, which ensure a particularly high supply of clean air, with efficient filter systems. Our buses also feature vertical ventilation through the footwell which effectively prevents air turbulence.
At lower temperatures, the amount of clean air can even reach 100 percent through complete air changes every two to four minutes. By comparison, the amount of air circulated per hour is equivalent to that in 35 single-family homes. This means that passengers receive a much greater amount of clean air than, for example, in an airplane.
The multi-layered, innovatively designed, high-performance particle filters hold back even the finest aerosols and have an additional layer of antistatic action. Throughout the journey, there are several breaks in organised parking areas to allow for natural air renewal in the passenger cabin and to serve any personal needs.
After each journey, the bus is cleaned and disinfected according to the hygiene standards associated with Covid-19.